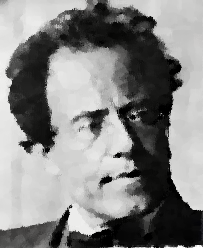 For the first movement, he revised a previous work, a symphonic piece similar to a funeral march, entitled ""otenfeier". Obviously, Mahler adopted this title from a poem of the Polish poet Adam Mickiewicz, that he received translated by his friend Siegfried Lipiner.
A scherzo movement follows an idyllic andante, the symphonic transposition of the Lied "Des Antonius von Padua Fischpredigt" (composed in summer 1893), which text from "Des Knaben Wunderhorn" points the uselessness of all striving out.
The fourth movement gives practically an answer to the third movement. It is also based on a Wunderhorn lied: "Urlicht" was probably transposed in symphonic form by Mahler in summer 1893.
With regard to the music and the content, the whole work is keyed to the final choir of the fifth movement, to the setting to music of Klopstock's ode "Aufersteh'n, ja aufersteh'n wirst du". After having finished the composition, Mahler wrote: "The last movement (partition) of the second symphony is finished! It is the most important thing that I have ever made."